It's that time of year again. The day that the average American (justifiably) consumes a sizeable 4500 calories is quickly approaching: Thanksgiving. But you don't need to stuff yourself at Thanksgiving to take a lesson from it, so let's take a break from cooking up compelling visual content to revisit the content marketing Thanksgiving turkey analogy.
By providing scrumptious leftovers that will grace lunches in the coming weeks, Thanksgiving turkeys can double as a content marketing teaching tool. I present this simple concept here to you, on a (metaphorical) silver platter: Build opportunities to repurpose content you already have, just as you do with your leftover turkey.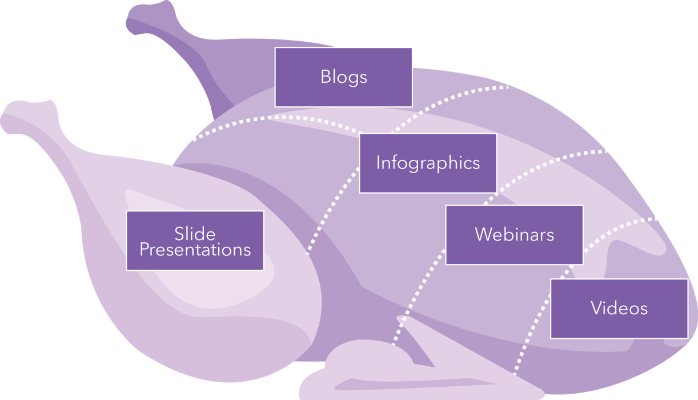 This festive analogy originated with content marketing strategist Rebecca Lieb. When asked about tips for companies struggling to produce enough content, she replied:
"I use a Thanksgiving analogy. You cook up this giant bird to serve up on one glorious occasion and then proceed to slice and dice this thing for weeks on end. If you are like most families, you are going to be repurposing this bird as leftovers for quite some time, creating everything from sandwiches, to soups, and more. Your content marketing strategy can be thought of in the same way."
Instead of continually scrambling to whip up new content, marketers should look for opportunities to repurpose the best-performing pieces they already have. For instance, through creative reuse and cross-team collaboration, an ebook can yield infographics, SlideShare presentations, SEO-friendly blog posts, listicles, and videos — each of which should have its own distribution channel and CTA strategy aligned to a customer journey.
Think of it as another way to visualize the well-known phrase "big rock content," coined by Jason Miller, LinkedIn's EMEA Head of Content and Social Media Marketing. The core goal of big rock content marketing is to focus and invest in high-value content concepts that can be repurposed across channels, moments in the user journey, and formats — versus ad hoc one-off smaller projects that are less efficient and show less results. Big rock content takes time, effort, and money, but it's an integral part of a mature content strategy.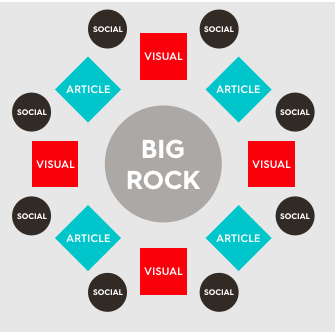 Big rock content is a substantial content effort, such as Newscred's new ebook: The Integrated Marketing Organization. The 40-page ebook itself serves as a piece of gated content to drive lead gen opportunities, and it's simultaneously being sliced, diced, and served up in blog posts, webinars, print collateral, direct mail, workshops, social posts, and paid campaigns. With a big rock content strategy, we're able to fire up all areas of our marketing team (content marketing, design, product marketing, events marketing, and demand gen) around one project.
A classic example of big rock is LinkedIn's Sophisticated Marketer's Guide. Since its creation in 2013, it has spun off into hundreds of pieces of content including webinars, mobile downloads, SlideShare presentations, influencer blogs, a monthly podcast in 2015, and most recently, a quarterly print and digital magazine debuting in January 2018. The gravy on top for this long-term Thanksgiving turkey-inspired content marketing strategy? All the leads, deals, and revenue it has influenced over the years.
At NewsCred, we believe sophistication at repurposing existing assets is a key element of both operational efficiency and integrated marketing maturity. Although your actual Thanksgiving turkey leftovers won't last that long, the more you can repurpose content, the more efficient your content marketing, the easier it is to align cross-functional teams on an integrated campaign, and the better the ultimate results.
But first things first: Happy Thanksgiving!
Ali Hart is NewsCred's Marketing Coordinator.
The post Thanksgiving Lessons for Content Marketers appeared first on Insights.
To discover more visit: insights.newscred.com
Related Posts
Online Income: How to Maximize Your Earnings from Home