With online courses reaching optimal enrollment, online digital marketing courses are the most enrolled course in this pandemic.
Digital marketing and its scope are evident to everyone. Did you know that the digital marketing field is growing at an annual rate of 11%?
This is thus far the largest growth value any sector has seen. Learning digital marketing can be the best skill that you can add to enhancing your business, gaining an attractive job or for anything in general.
With the pandemic situation that is prevailing amongst everything, a digital front and online certification courses are what people turn towards for upskilling themselves. In which ways there are numerous online digital marketing courses with certificates that will help you build your resume and skills right at home.
Why is the online digital marketing course the best?
Online digital marketing courses give you the flexibility to gain noteworthy skills in digital marketing right from the comfort of your home. Although nothing can beat the experience of gaining skill through offline courses,
After all, isn't that what digital is all about?
Making use of the digital platform to send across information and receive the same. So, as a digital marketer, it will be a good experience to know how the digital world works. Things can get done right at the comfort of your home, and that is what
Online digital marketing courses can be taken up by entrepreneurs, sales and marketing professionals, homepreneurs and freelancers. This will help grow businesses and skills.
What should we check before opting for an online course?
Courses that are specifically designed to help people learn digital marketing are an important resource to have, and it's no surprise that more and more people are turning to online courses to take advantage of the convenience.
For people looking to start out or who aren't quite sure what to focus on, it can be helpful to find a course that covers the basics, as well as more advanced topics. That way, you can learn just what you need to know.
List of online courses on digital marketing
In this blog, you will find a list of ten online digital marketing courses that are available for free and for an affordable fee as well. I recommend that you take the time to check them out at your convenience.
A lot of people may not have the time to go through these courses and learn digital marketing. However, they can be instrumental, especially to students who are trying to decide what to study.
Top 10 Online Digital Marketing Courses with Certification
1. Online Digital Marketing Course by Digital Scholar (Paid with Certification)
Digital Scholar offers a 3 month online digital marketing course. This agency based online digital marketing course. This agency style approach is the best for gaining experiential learning.
They make use of comprehensive strategies to deliver the best for the students.
Global practitioners and well versed digital marketers will give you a thorough knowledge of digital marketing.
Right from basics to advanced entities will be covered. It is a paid course, and you will receive a valid certificate which you can make use of at any point and anywhere to get yourself a good job.
Even freelancers, marketers, and business owners are benefited from this course.
Online Digital Marketing Course Highlights
100% Internship Guarantee by echoVME Digital4+ LIVE projects100% Placement Assistance with average salary hike of 110%International Freelance Marketplace forever18+ Advanced Modules including copywriting, affiliate marketing and Ecommerce Management.Affordable Fees.Ad Budgets, Domain and Hosting and Internship Cashback25 CertificationsMost Intense Modules at half the price.Learn from World's Best Digital Marketing Influencer, Sorav Jain who has 176k followers on Instagram, 107k subscribers on YouTube and has trained over 100k students till date.Harvard-Style Case-StudiesNational and International TrainersStart your own Digital Marketing agency with our agency-style unique approachBecome an International Freelancer with our courseLearn Complete Automation
Program Types:
Online and Offline ( Offline course is available only at Chennai location as of now)
Online Digital Marketing Course Trainers:
Guest Lecturers:
Google Reviews and Ratings
1482 reviews and 4.9 average ratings
Course Fee:39,500 RsCourse Duration:3 MonthsCourse – Training Mode:Online TrainingNext Batch Date: 7th May @ 9 AMTrainers:Sorav Jain & TeamInternship:3 Months Paid InternshipContact Number:+91-9169231231Email: info@digitalscholar.inWebsite:www.digitalscholar.in
3 Months advanced program in digital marketing course details by Digital Scholar
2. Digital Marketing Course by Sorav Jain (Free with Certification)
Well, yes. It is my own course, and it is absolutely free of cost. Why do you ask?
Well, I am launching this as a token of gratitude for successfully training 3500+ professionals via 150+ training programs organized in various cities of India and Sri Lanka in the last five years.
Right from website development to social media presence, I will be teaching you all the required basics in digital marketing.
3. Google Digital Marketing Courses (Free with Certification)
Google is offering this best free digital marketing course. This is a good guide for those who are beginners in digital marketing. It helps them understand the fundamentals of digital marketing along with google products.
After taking this course, you will be able to take up an exam. On clearing this course, you will get an accredited certificate from google.
4. SEMRUSH Academy (Free with Certification)
SEMRUSH Academy offers one of the best online marketing courses with free certificates. In SEMRUSH academy, you will learn all the fundamentals of digital marketing in a well-organized manner.
These courses are curated by field experts, and they are very informative. The certificate provided on taking up this course has good value.
5. ClickMinded Digital Marketing Course (Free and Paid with Certification)
Clickminded website has numerous resources. It is a very reputed platform to gain good knowledge in digital marketing.
The ClickMinded Digital Marketing Certification is designed in such a way that it helps understand the needs of the clients.
It is an important aspect of digital marketing, and clickminded helps garner skills for it. ClickMinded offers both free and paid courses.
6. HubSpot Online Marketing Courses (Free with Certification)
Hubspot has numerous resources for online marketing courses. They are free and also provided with certifications. They have quick practical courses and comprehensive certifications.
You can learn a plethora of things and gain a lot of skills from the courses. They cover hundreds of topics, and you get unlimited access to them.
7. Udemy Digital Marketing Course (Paid with Certification)
Udemy is one trustable online learning platform where you can find many valuable courses. There are numerous courses which you can select from.
They are mostly pre-recorded videos by experienced professionals. Udemy is a paid platform to access courses, and it is worth paying for because of the credibility of the courses.
8. Copyblogger Online Marketing Course (Free)
Copyblogger gives you an idea of internet marketing education with 16 ebooks and 20 emails. They are absolutely free.
They provide smart ideas to mix social media, content marketing, and SEO for lead generation. If you are starting off fresh, then this course is for you to get an amazing idea into the basics of digital marketing.
9. Udacity Digital Marketing Course (Paid with Certification)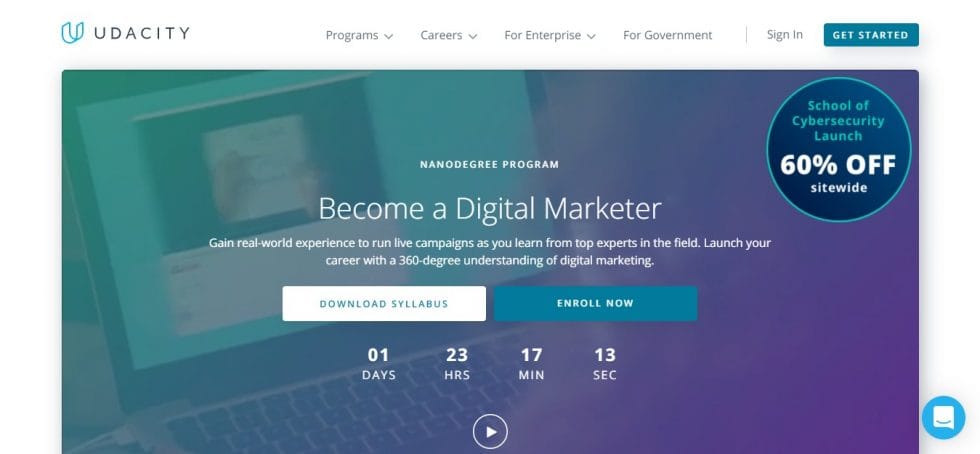 Udacity is an amazing platform to gain real-world experience in running live campaigns. You will be provided with a 360-degree understanding of digital marketing.
You will be learning from the top experts in the field. The course is a paid one with certification.
10. Optinmonster Digital Marketing Training (Free)
Optin monster offers digital marketing training to explode your business growth. It is where entrepreneurs, business owners and marketing officials gain ideas on how to attract and convert website traffic into customers.
The courses offered in it are free and are of good informational content as well.
One more online course on digital marketing you can check it out is
11. Simplilearn Digital Marketing Courses (Paid with Certification)
It is a paid certification course, and this digital marketing certification course will transform you into a complete digital marketer with expertise in major digital marketing domains. You will be working on real-world projects and gain experiential learning.
If you are interested in digital marketing, then I would ask you to indulge in any of the above courses without a doubt. Digital marketing is sure to be an important part of every sector, and you must inculcate the knowledge and skills in it.
To discover more visit: soravjain.com